Congratulations!
You're Just 1 Step Away From Securing Your Membership in Adam O'Dell's Max Profit Alert…
And Getting Access to "The Next Big Short."
This single trade could deliver a shot at 2,000% gains or more in the next 180 days. Act fast to position yourself for maximum profits.
Your Opportunity
Congratulations!
You're one of the first 500 people to claim a membership in Max Profit Alert.
With some massive fortunes being made recently…
Like these top market performers we found during our back tests on historical data:
3,084%

on Carvana in 60 days.

1,281%

on Beyond Meat in 54 days.

1,005%

on Wayfair in 45 days.

942%

on Redfin in 27 days.

911%

on Zillow in 38 days.

880%

on Asana in 25 days.

482%

on Rivian in 70 days.

553%

on Nikola in just 15 days.

2,523%

on DocuSign in just 29 days!
Your timing couldn't be better. As it stands, 2,006 companies are in similar positions with ratings below 40 and tumbling lower.
And let's not forget about the Next Big Short.
Placing the correct bet against Tesla right now could give you the best shot at 2,000% gains or more in the next 180 days.
This special report is included for FREE in your membership to Max Profit Alert.
So let's run through…
Everything You Get When You Secure Your Max Profit Alert Membership Today:
It starts with your special report…
The Next Big Short: Grab 2,000% Gains in the Next 180 Days.

This is where I reveal the exact trade you need to bet against Tesla. This trade was already issued to Max Profit Alert members. A reader of mine, a former schoolteacher, told me he's up 390% in a single day. He wrote me a week later saying he was up another 80%.

Another reader already locked in a gain just shy of 100%. And he's holding the rest for even more gains … 254% at this time.

But the biggest gains are still to come. When it's all said and done, I believe you could pocket 2,000% gains or more in just 180 days.
Here's the "Meat and Potatoes" of Your Max Profit Alert Membership…
Over the next 12 months, you'll enjoy:
At Least two to three Trade Alerts

a Month:

With 2,006 companies on the verge of a massive correction, there's no shortage of opportunities to profit as their stock prices fall. I'm going to use my system and rigorous research and analysis to deliver you the very best opportunities. With each trade alert, you'll know exactly what to do to position yourself for maximum profits.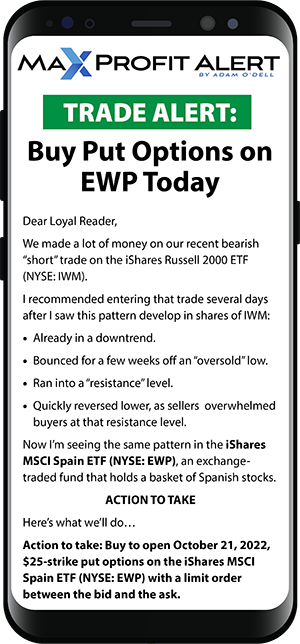 The Max Profit Alert Model Portfolio:

This is one of the most important parts of your membership. As a member, you will see ALL of my open trade recommendations — along with our top closed trade positions. In the last 10 years, my system … the very one you're going to get access to … has closed countless double- and triple-digit winners.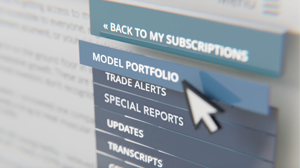 Weekly Research Updates:

This is my unfiltered take on what's happening in the markets. Once a week, I send readers an update on where the model portfolio stands … how the market is affecting positions … and what to expect from open trades.
24/7 Access to the Members-Only Website:

You will receive a login and password. Everything will be accessible from your mobile phone. All the trade alerts and model portfolio will be available at your fingertips.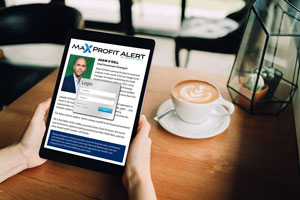 A Dedicated Customer Care Team:

A team of well-trained and educated customer service representatives can help you with any questions you might have about your membership. You'll receive your customer care hotline number after you place your risk-free order.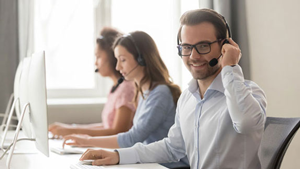 BONUS: Maximizing Profits With Options.

In this video course, you'll get an A-to-Z primer on trading options. The perfect starter pack if you're new to trading options or if you need a refresher. By the end of this training, you'll be navigating the options market with confidence.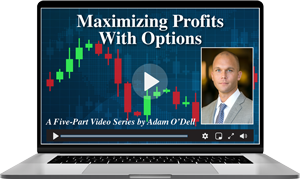 As a New Member … You're Entitled to Our Very Best Deal
The normal retail price for Max Profit Alert is $5,000.
But today, you can give it a try for $1,495 for one full year…
A savings of over $3,000 off the normal price.
Remember — this 70% discount price is only available to the first 500 people who join today.
So the 500 spots may be gone in a flash.
And just for considering this offer, you get a SPECIAL BONUS: Lock in your membership discount for life!
As long as you're a member in good standing of Max Profit Alert — your membership fee will never go up. No matter how much we charge others in the future — you're guaranteed the same price for life.
Accept My "100% Performance" Guarantee: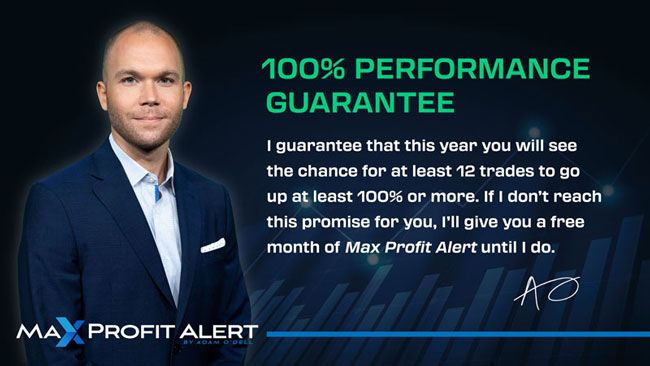 I will deliver at least 12 chances to make 100% (or more) over the next year on the recommendations you receive each and every month. If I miss the mark, just call our customer care team every month I miss and you'll get a free month until I do.
This is how confident I am that you're going to love and profit from Max Profit Alert.
Please keep in mind, because of the incredible nature of this offer, we cannot give refunds.
Again, the special discounted price is limited to the first 500 folks who join today. And we expect these spots to go fast. First come, first serve.
After that, we cannot guarantee spots — or this special price.
It's simple to get started.
Just fill out the brief form below.
Or call 877-242-3508 to get started right away.
So let's get started now!
Simply Fill Out the Form Below or Call 877-242-3508 to Get Started for

Only $1,495!