Act Now to Receive 12 Months of Adam O'Dell's Green Zone Fortunes for Only $3.90 per Month
PLUS… Get $1,196 of FREE Bonuses to Help You Navigate the Trillion-Dollar Green Energy Race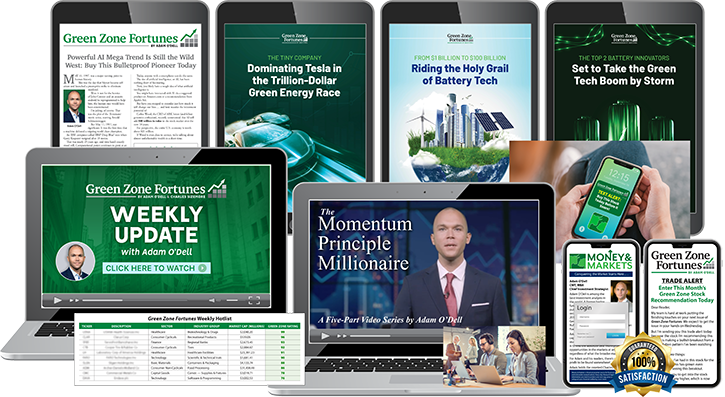 As I showed you today…
"Infinite Energy" software is on the cusp of disrupting the global energy market…
Launching an era of cheap, abundant electricity the likes of which the world has never seen…
Yet here's the thing…
99.9% of other investors aren't aware of this breakthrough yet...
So by taking the time to watch my presentation today, you're way ahead of the pack.
This knowledge gives you the chance to get in on the company behind "Infinite Energy" software early, where the biggest profits could be made…
Because this company could be moments away from soaring higher never to come back down again…
And that's why you need to act now.
All you have to do to get started is take a no-risk subscription to Green Zone Fortunes — and you'll get all the details of this opportunity rushed to you…
Now, a one-year subscription to Green Zone Fortunes usually costs $199.
But because you watched my presentation today, you can claim a 100% risk-free subscription to Green Zone Fortunes for just $47 (which works out to just $3.90 per month).
That's more than 75% off the regular price.
PLUS, you get $1,196 worth of FREE bonuses to help you prosper as the trillion-dollar green energy races takes off … including your report on the company behind Infinite Energy software.
These bonuses are yours to keep, even if you cancel.
As part of this deal, my team will also auto-renew your subscription on your one-year anniversary for $79 for an additional year. And you will lock in that low yearly rate for as long as you choose to stay a member.
You can cancel this auto-renew feature at any time and your purchase is protected by a 365-day, 100% money-back guarantee.
So you have nothing to lose.
Green Zone Fortunes must do everything I've promised, or else you get every penny back!
Here's Everything You Get By Acting Today:
One Year Membership to Green Zone Fortunes
You get the No. 1 stock in the markets sent straight to your inbox each month in my newsletter — as well detailed research and analysis. You'll also get 24/7 access to the member's website, including my live model portfolio and past research reports.
One Year Access to the Green Zone Fortunes "Weekly Hotlist"
Each week, I run all 8,000 U.S. stocks through my powerful Green Zone Rating System. I then send the top ten rated stocks to Green Zone Fortunes members every Wednesday. That's right: you get the top ten rated stocks out of 8,000 sent directly to you. Remember: over the last year and a half, this list has produced 52 triple-digit peak gains on our top-performing stocks.
"Anytime" Access to My Proprietary Green Zone Rating System
My AI-based stock rating software took hundreds of man-hours to develop and hundreds of thousands of dollars to develop … and soon, it could be at your fingertips. Just type the name or ticker symbol of any stock you like into the search bar, and you can check its Green Zone rating whenever you want.
FREE Report No.1
The Tiny Company Dominating Tesla in the Trillion-Dollar Green Energy Race
Getting the details of the stock in this report will allow you to double down on the smart decision you've made to watch my presentation today. And if you do decide to invest, you'll be among great company. Remember: Peter Thiel, the visionary billionaire that Forbes, Fortune and the New Yorker all call the best tech investor in history ... he's an early backer of this company. And I believe you should be too.
FREE Report No. 2
The Top 2 Battery Innovators Set to Take the Green Tech Boom by Storm
The demand for battery storage is set to grow at 21X the speed of the U.S. economy over the next five years. This report details two battery companies with the potential to become mega-cap superstars as this trend takes the stock market by storm.
FREE Report No. 3
From $1 Billion to $100 Billion Riding the Holy Grail of Battery Tech
Harvard researchers are calling this type of next-gen battery "the holy grail of battery tech". This particular company promises a 10X jump in power … a usable lifespan of up to half a century … and a full charge that takes just three minutes. And I believe they could soar from $1 billion to $100 billion within seven years as a result.
FREE Video Series
Momentum Principle Millionaire Video Series
In this video series, I reveal the No. 1 secret behind Adaptive Investing™ — which is the simple method I've used to achieve all my success in the stock market. I think you're going to find it fascinating because this secret involves doing the total opposite of what most mainstream investment experts tell you to do…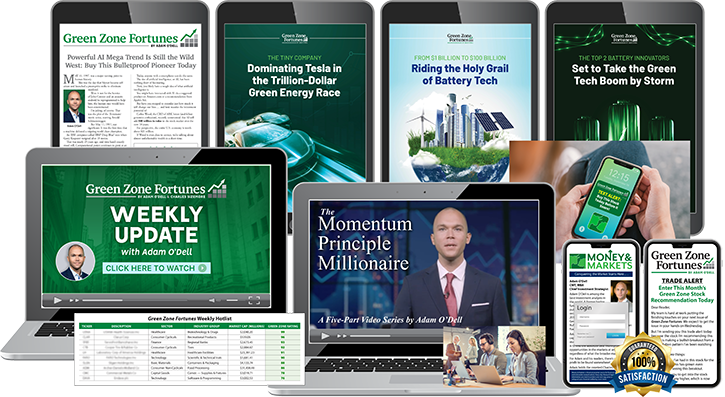 TOTAL VALUE: $1,594
Yours for Just $3.90 per Month
(billed as a yearly payment of just $47)
You'll be 100% satisfied with your risk-free
membership to Green Zone Fortunes, here's why...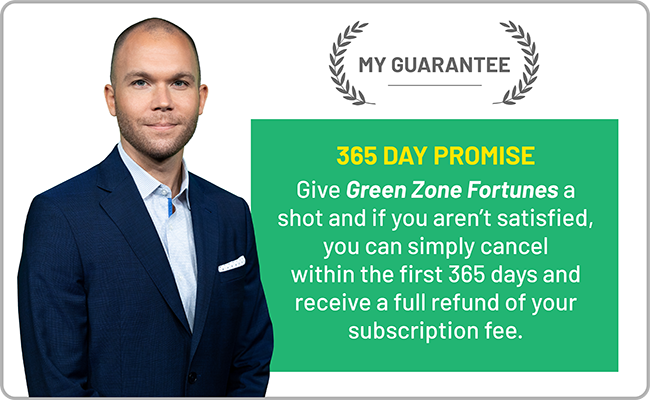 YOUR ORDER IS SECURED BY 128-BIT ENCRYPTION
This order page is secured by powerful 128-bit encryption – the same encryption Microsoft uses. Your information is safe and secure. However, if you prefer to order over the phone, you can call toll-free at 1-800-684-8471.
Simply Fill Out the Brief
Order Form Below Or Give us
to Get Started for Just $47!