You're One Step Away!
Congratulations! You're one step away from securing one of the 500 limited spots in Green Zone Fortunes today.
You've seen how dividend-paying stocks:
Are the

perfect hedge against rising inflation.

Typically

have higher returns

than non-dividend stocks.
Are far

safer and less volatile

than non-dividend stocks.
And with the right ones, you can increase your income every year without investing a single penny more!
With a potential market catastrophe looming…
Dividends are the ideal way to protect and grow your wealth.
And the wealthy know this.
They are pumping billions into dividend-paying stocks right now…
But most mainstream investors are missing out on this quiet bull market in dividend stocks.
You can be different.
My team and I have made it easy to get started with…
FREE access to the Green Zone Income Portfolio

(a $399 value).

This is a special portfolio of my top-rated income stocks as verified by our world-class Green Zone Ratings system. The Green Zone Income Portfolio is the ultimate income portfolio, stacked with some of the market's highest-yielding dividend-growth companies … to deliver maximum income right now!

FREE report #1:

The Alt-Dividends Report (a $299 value).

The stock market is full of what I call "alt-dividend" investments with potential for high yields … and in this report, you'll find three of the very best. But these unusual bargains aren't going to last forever, so you want to check out this report ASAP!

FREE report #2:

The Billionaire Bundle (a $299 value).

Billionaire investors are piling into dividend-producing stocks right now, while many Main Street investors are missing out. So I decided to level the playing field. I dug through the portfolios of some of the smartest and most successful billionaire investors on the planet, Warren Buffett, Cliff Asness and Ray Dalio, to find three of their favorite income producers. Our Green Zone Ratings system is screaming "BUY" on all three of these dividend stocks!

FREE bonus bundle:

The Income Forever Bundle (a $749 value).

This bonus bundle includes three reports: My No. 1 "Sure Thing" Dividend Stock, My Bulletproof Income Play and 3 Dividend Booster Stocks, PLUS my brand-new book, Income Forever, that's packed full of tips, tricks and secrets I've gathered over 20 years of helping investors find financial independence.

FREE resource: Momentum Principle Millionaire Video Series (a $599 value).

You'll get access to the No. 1-winning factor behind Adaptive Investing™, the simple method I've used to crush the market year after year. This resource is perfect for anyone who wants to learn the market-beating secret that has outperformed the market for over 200 years.
A $2,342 Value…
Yours for Free!
All of this is yours when you take a risk-free membership to our flagship research service, Green Zone Fortunes.
Tens of thousands of people in 98 countries already subscribe and love this service, including advisors at Morgan Stanley, Merrill Lynch, and UBS.
Here's Everything You Get By Acting Today:
The monthly Green Zone Fortunes newsletter. Each month you get a detailed briefing with complete research and analysis of my top investment recommendation for that month.
The Green Zone Fortunes model portfolio, PLUS the Green Zone Income model portfolio. This is where you can see EVERY stock on our buy list — including ALL of the investments I'm sharing with you today.

Trade alerts.

These come to you via email and text messages so you'll never miss out on a big opportunity.

Weekly updates.

You'll get weekly video and written updates with our takes on the market and how it's impacting our model portfolio.
Green Zone Fortunes "Weekly Hotlist". Each week, I run all 8,000 U.S. stocks through my powerful ratings system. My team and I select 10 top-rated stocks and send them to Green Zone Fortunes subscribers every Wednesday, an added benefit that spotted over 90 triple-digit peak gains over the past 18 months.

"Anytime" access to my propriety stock rating system.

My AI-based stock rating software identifies "Strong Bullish" stocks primed to crush the market by 3X over the next 12 months. Just type the name or ticker symbol of any stock to see if it earns the coveted "Strong Bullish" status.

Access to a private, members-only website.

This is where all of your content is located: trade alerts, model portfolio, weekly updates and more

A dedicated customer care team.

Our team is here to help you. If you ever have a question about your membership, website or model portfolio, you can reach out to our team for help.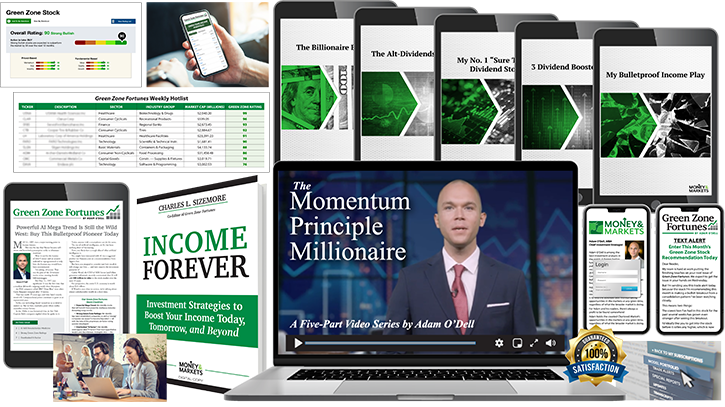 A one-year subscription normally costs $199.
That's already a great value. But today I slashed the price down to just $47.
That comes out to just $3.90 per month.
Accept Our 100% Satisfaction Guarantee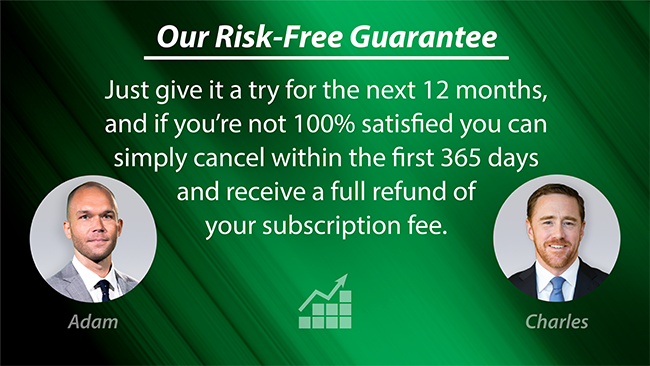 Why am I making such a great offer?
Because I made a commitment to help as many Americans as I can transform their financial outlook…
And I don't want anything holding you back from the dividend opportunities I'm seeing in the market today.
You have nothing to lose and everything to gain when you join today.
I look forward to having you as a member.
Let's Get Started!
Step No. 1: Simply Choose Your Subscription Level

Your Offer is Reserved for:
Just a one-time payment for a

lifetime subscription

!
Limited-Time New Member Discount for Lifetime Members (A

93% Savings

).
Including the Green Zone Income Portfolio, two additional income reports, the Income Forever Bundle and member benefits,

PLUS 10 additional free reports,

valued at nearly $2,000.

The Company Powering the DNA Mega Trend
The $16 Trillion Renewable Energy Opportunity
The Crash-Proof Portfolio
The AI Company Treating Infectious Disease
3 Future DNA Titans for Less Than $2 a Share
Claim this Stock in the $26.5 Trillion Fintech Industry
The Tiny Company for Personalized Drug Discovery
The Tiny Company Dominating Tesla
The Top 2 Battery Innovators
From $1 Billion to $100 Billion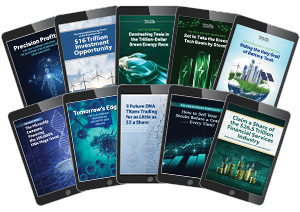 One-year subscription

to Green Zone Fortunes!

Free access to

the Green Zone Income Portfolio

(a $399 value)

Free Report #1: The Alt-Dividends Report (a $299 value)
Free Report #2: The Billionaire Bundle (a $299 value)

Free Income Forever Bundle,

including my brand-new book

(a $749 value)

Free Resource:

Momentum Principle Millionaire Video Series

(a $599 value)

One-year, 100% satisfaction guarantee.

GREENZONE

one year subscription code applied!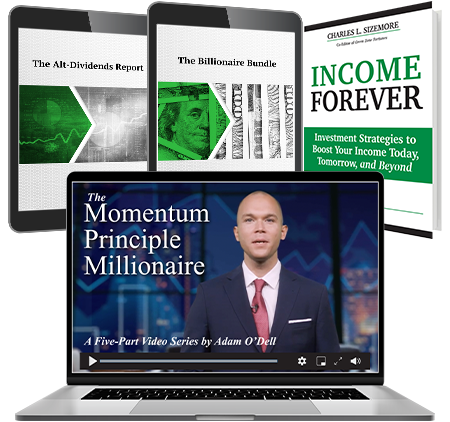 Step No. 2: Fill in Your Information and Click "Place Order"